Welcome to the County of Hunterdon's Tricentennial Celebration website. Please visit often as we update this site daily. We are planning many special events, lectures, tours, fundraisers and more. Join us as we celebrate our 300th Year.

If you have any questions please email or call us at 908-788-2030. Our office which is located at 3 Chorister Place in Flemington, NJ (just off of Main Street adjacent to the Flemington Borough Police Department) and is open to the public on Saturdays only from 10am to 2pm.
SOME EVENTS WILL REQUIRE RESERVATIONS, ALTHOUGH MOST ARE FREE. Reservations will be taken on a first come first served basis. Reservation information will be posted 3 to 4 weeks prior to each event.
MUNICIPAL BOUNDRIES PRESENTATION:
CLICK on the MAP IMAGE BELOW for a Detailed Presentation on
How the County's Municipal Boundary Lines Have Changed Over the Years.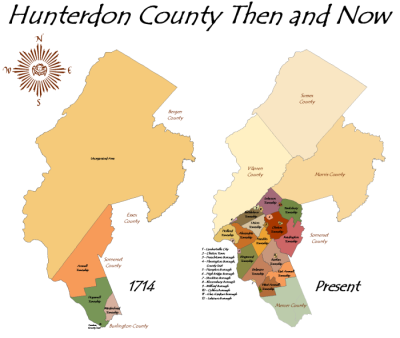 Friday, November 14, 2014:

Friday, October 31, 2014:

Thursday, October 23, 2014:

Friday, October 10, 2014:

Saturday, October 4, 2014:

Wednesday, September 24, 2014: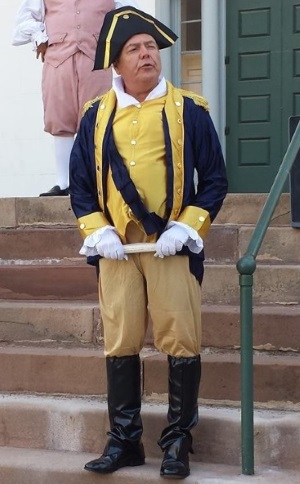 The Tricentennial Committee mourns the loss of our good friend HARRIE E. COPELAND, III who passed away on Monday, November 10th.
He will be missed greatly.
We send our most sincere condolences to the Copeland family.
BLUE SKIES


The 300th Committee Presents the Original Blue Skies to the County Freeholders and Judiciary. The artwork will be permanently hung at the Hunterdon County Justice Complex. Limited Signed and Numbered Prints are Still Available - order while they last!
Call 908-788-2030 for more information or
~~~~~~~~~~~~~~~~
300TH ANNIVERSARY
PHOTOGRAPHY CONTEST

~~~~~~~~~~~~~~~~

RESERVATION TICKETS WILL SOON BE AVAILABLE FOR EVENTS IN DECEMBER
December 6th: The Dutch Reform Church and the Revolutionary War Lecture and Grave Walk - sorry cancelled
December 7th: The Road Along the Rocks: A Walk Down A Revolutionary Road - SESSION 1 (10:45am) and SESSION 2 (12:45pm)
December 9th: The History of Flemington Cut Glass
December 10th: History of Washington Crossing State Park
December 13th: Washington Crosses the Delaware
December 17th: Hunterdin in 1776
December 20th: Children's Historical Craft Project - Making Victorain Christmas Ornaments - SESSION 1 (11:30am) and SESSION 2 (1pm)
December 20th: History Through Music - A Revolutionary Christmas
December 28th: A Victorian Christmas Afternoon Tea - at Teaberry's Tea House, Flemington

UPCOMING EVENTS SPONSORED
BY OUR SPECIAL PARTNERS
December 6th & 7th: Christmas Antigue Show -
December 7th:
December 7th: Annual Historic House Tour -
December 12th:
December 13th:
December 13th:
December 14th:
December 25th:
THANK YOU TO OUR GENEROUS SPONSORS: