2014 was a wonderful year celebrating our 300th Year - thank you so much for the overwhelming participation in the many events that took place. We had such a huge success in 2014 we decided to continue our efforts to bring these programs to you for as long as we can.
In 2015 Our Hunterdon History and Heritage theme was HUNTERDON'S AGRICULTURAL HERITAGE. We have pretty much wrapped up most of our 2015 events and are now planning 2016's festivities. Municipalities and other special partners have been invited to add their heritage events to our calendar. Check out what we have planned to .
A huge thank you to our incredible sponsors, volunteers and committee members for all of your support.

If you have any questions please email or call us at 908-788-2030.
MUNICIPAL BOUNDRIES PRESENTATION:
CLICK on the MAP IMAGE BELOW for a Detailed Presentation on
How the County's Municipal Boundary Lines Have Changed Over the Years.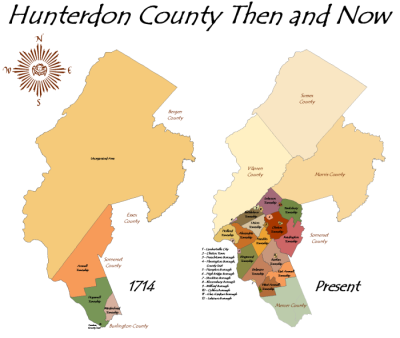 ~~~~~~~~~~~~~~~~

RESERVATION TICKETS AVAILABLE:

None at this time...
~~~~~~~~~~~~~~~~
SPECIAL PARTNER EVENTS:
December 6th:
~~~~~~~~~~~~~~~~

The Astle-Alpaugh Family Foundation has produced a video about Richard Pierce's flag collection; Richard, an amazing volunteer for lucky historical organizations including the Red Mill, Morven Museum and the 300th, discusses the important history of our great Nation's flag.
THANK YOU TO OUR GENEROUS SPONSORS FOR THEIR CONTINUED SUPPORT: