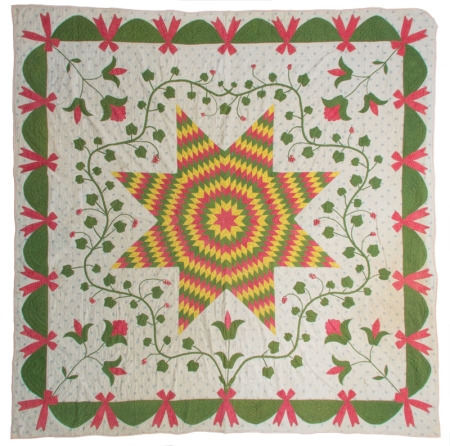 "Wild Grapes." was bought at a house sale in East Amwell Township and is dated around 1850 or earlier. It is privately owned. It has typical fabrics of the period, a typical pieced central Mathematical star, and appliqued vine, leaves, stuffed "grapes" and swag-with-bow border.
HISTORIC QUILT DISPLAY -
Common Threads: Quilting Traditions in Hunterdon County, NJ.
March 26, 2014 Press Release -
Open to the Public
Saturday, April 5th to Sunday, April 13th: 10am to 4pm
Except Saturday, April 5th and Tuesday, April 8th - 10am to 6:30pm
Route 12 County Complex,
Building #1, Assembly Space
314 Route 12
Flemington, NJ 08822
To celebrate the 300th Anniversary of Hunterdon County NJ, the Anniversary Committee will be mounting an exhibition of quilts in the Assembly Room of the County Building on Route 12 in Flemington . The dates for the exhibition are the nine days from Saturday April 5 to Sunday, April 13, 2014. Open hours are from 10am to 4pm each day, except Saturday, April 5th and Tuesday, April 8th, open 10am to 6:30pm.
Assisted by a substantial grant from the Quilter's Guild of Dallas TX. The Exhibition is called "Common Threads: Quilting Traditions in Hunterdon County, NJ."
Approximately 40 or more quilts will be exhibited, all of them with a Hunterdon County connection. Most will be historic quilts; many are signature quilts associated with churches and many date from the 1840's. The earliest quilt in the exhibition is signed and dated 1832! At least 5 different Historic Societies are participating as well as some private collectors. Two quilts are coming from as far away as Utah and Indiana.
The art and craft of quilting has probably never had as many active participants as it has today, and is a multi billion dollar industry. Hunterdon County is home to 2 major quilt guilds and so approximately 4 contemporary quilts will be included in the exhibition as well, to show the continuity of endeavor and design.
Admission to the exhibition will be free! A 60 page full color catalog of the exhibition will be for sale at a nominal fee, with all the photography donated by Bob Heil at Black Lab Studio & Imaging, 24A Main Street Flemington NJ 08822 (908) 751-5131
Visit:
at the Hunterdon County Historic Society is Curator of the Exhibition and will be giving her at the Library in the County Complex.
In addition to the exhibition there will be a (Limit of 50 people)

There will be 4 nationally known speakers: Sue Reich (Washington Depot, CT) will present on "Quiltings, Frolicks and Bees: 100 Years of Signature Quilts;" Karen Dever (Moorestown NJ) will present "My Garden of Quilts - Botanical Textiles;" Newbie Richardson (Alexandria VA) will present on "Quilts in Context;," and Dana Balsamo (Princeton NJ) will present "Evaluating Your Quilts...is it a Treasure?". There is a fee for the seminar, to be determined. Lunch is included in the fee.
"This project is funded in part by a grant from the Quilter's Guild of Dallas, Helena Hibbs Endowment Fund."
These organizations are lending quilts to the exhibition, and as noted by each listing, will also simultaneously exhibit other Hunterdon quilts:
Red Mill Museum Village
56 Main Street, Clinton, NJ 08809;
Will simultaneously host a small exhibition of quilts.
Hunterdon County Historical Society
114 Main Street, Flemington, NJ 08822;
Will also display quilts on four beds in their Doric House museum.
The Edward Thatcher Astle Memorial Scholarship Foundation
PO Box 182, Annandale, NJ 08801;
Quilts in their collection not in the exhibition may be viewed by appointment.
Readington Historical Society (Bouman Stickney Farmhouse)
P.O. Box 216, Stanton, NJ 08885;
Will simultaneously host a small exhibition of quilts.
Lambertville Historical Society
PO Box 2, Lambertville, NJ 08530;
Will also display quilts on two beds in their Marshall House museum.
Township of Lebanon Museum
57 Musconetcong River Road, Lebanon NJ , Ph: (908) 537-6464

For more Information, please contact Judy Grow at . Please put Common Threads Quilt Exhibition in the Subject line.